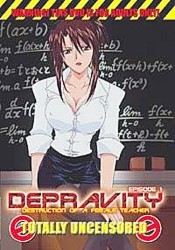 Added: 05-10-2009
Release date: 2002
Duration: 25 min
Censorship: No
Niche: Bondage Group Big Tits BDSM Bukkake Creampie Double Penetration Fisting
Rating:




4.3 of 5
3 votes
DOWNLOAD
Depravity: vol. 1
In a dark, empty schoolbuilding, Kiriko is bound and gagged, wearing only her underwear. In front of her, there are three men wearing masks. They tell her, "I want to see your body drown in pleasure, and your face controt in ecstacy." These men had much experience with other female teachers.They would continue their perverse assault until their prey cried out in ecstacy. However, Kiriko is a strong-minded, marital arts expert. Two of the men were already lying wounded in the nurse's room. As Kiriko threatens to turn the men into the police, her epithets start to excite them. They tell her that if she can stand the men playing with her pussy for ten minutes without getting wet, she will can go. As they play with her body, her mind and reason dims in a wave of sexual pleasure....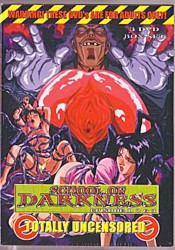 Added: 27-11-2008
Release date: 1995
Duration: 48 min
Censorship: No
Niche: Lesbian Group BDSM Bizarre Creampie Double Penetration
Rating:





4.0 of 5
2 votes
DOWNLOAD
School of Darkness: vol. 3
The students are eventually separated from their teachers. Exhausted and hungry, the students split up into pairs to look for their teachers, and find food. While searching for food, Akemi and Yuko encounter a strange man. He offers the two girls a small flask, filled with strange nectar. After sharing the nectar, the two girls are seized by uncontrollable lust. Their dip in the lake turns into a torrid romp by the shore, as they take turns pleasing each other with their tongues and fingers... Kyoko and Shiori come across a cabin filled with food. There, they are reunited with Mr. Kubo. After Shiori leaves to bring the others back, Tatsuya convinces Kyoko into wrapping her mouth around his cock, before furiously pounding her willing pussy. Suddenly, Yayoi walks in on Tatsuya and Kyoko... Nobody is aware of the changes taking place inside Yayoi. The shocking final episode is filled with pulse-raising sex and unspeakable dread. Nobody will escape the fate that awaits them...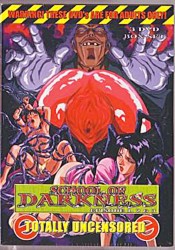 Added: 27-11-2008
Release date: 1995
Duration: 46 min
Censorship: No
Niche: Lesbian Group BDSM Bizarre
Rating:





3.7 of 5
3 votes
DOWNLOAD
School of Darkness: vol. 2
Shiori, Kyoko, Yuko and Akemi are on a camping trip with their teachers, Ms. Yayoi Mizuno and her fiancee, Mr. Tatsuya Kubo. Surrounded by nature, good times and laughter fill the campground. The class slut, Kyoko, quenches her lust by swallowing the cock of a stranger. Later, she pants with pleasure as her boyfriend takes her from behind in the great outdoors. Tatsuya prepares Yayoi for a long night of hardcore sex as he gently probes her with his tongue and fingers. Akemi and Yuko cry out in ecstasy as they furiously pump away, connected by a double-ended dildo. Shiori, alone in her tent, spreads her legs to finger her dripping pussy... Suddenly, late at night, a fierce storm destroys the campground, and their belongings. Everyone rushes into the nearby forest for cover. Unaware of the terrifying horrors in their future, they wander deeper into the forest....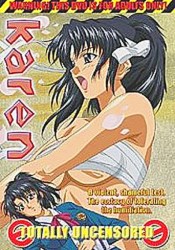 Added: 27-11-2008
Release date: 2002
Duration: 25 min
Censorship: No
Niche: Group Lesbian Anal Double Penetration Bukkake Creampie Fisting
Rating:





4.0 of 5
1 votes
DOWNLOAD
Karen
During the soccer game, men's cheerlading teams leader 'Okawa' is found that he is a woman. ALl the members resist her only because she is a girl. A vice-leader Doshima suggests one condition. If she can keep holding the team flag during the game with a vibrator in her pussy, then they will admitt her as a leader. She wants to remain as a leader but she response to a vibrator. Doshima is laughing at her watchng her face turns red. However, Ryo kept holding the flag. During she is taking shower after the game, Doshima comes and gives her a girl's cheerleading uniform. She gets mad, but Doshima says "You have to understand both men's and women's cheerleading if you want to remain as a leader" . At the girl's team, she can't wear panties and moves her kegs up to show her pussy to everybody. At the next ragby game, Doshima commands her to put a vibrator again during the whole game. The game is close to the ending, she almost losts her mind. When she wakes up, she us surrounded by a naked men's members...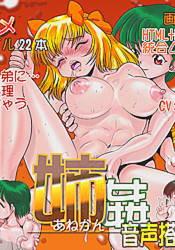 Duration: 4 min
Censorship: Yes
Niche: Straight Group Anal Creampie Double Penetration Fisting
Genre: Generalhentai
Rating:




2.3 of 5
3 votes
DOWNLOAD
RECENT COMMENTS
OUR SITES
GET INSTANT ACCESS NOW!
explore the biggest hentai pics, movies and games archive on the net